Very soon I'll be moving into a bedroom in London to do my MA degree, so I'm planning how to decorate the room as beautifully as possible for as little money as possible. My Mum scored some amazingly cheap second-hand furniture for me, which I'll be blogging about as I repaint them. For now I'm thinking about colours and textiles as a nice kind of brain candy.
Right now I'm thinking about bedsets. While I'm not going to go for the cheapest option available, I still have a very tight budget. Sadly, as I look on the internet I find a huge variety of beautiful bedsets that fit the style and colour palette I have in mind perfectly that I simply cannot allow myself to spend the money on. To assuage the pain, I thought I'd dump a few of them here to feel like even if I don't own them, they're making their mark on my territory in some way.
The Seaside Savvy quilt
by Le Attiser is $139, and is handcrafted using traditional block printing methods from the Thar Desert of Rajasthan in India. I'm happily jumping on the big turquoise bandwagon, but since my bed is next to the window I want it to be dressed in white to reflect the light into the room, so this pretty turqoise on white pattern is perfect.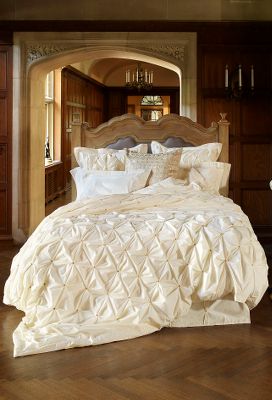 Anthropologie's Crowned Crane bedding set
would have also been perfect for me in that the origami folds would be a great contribution to the 'big, fluffy cloud' effect I'm hoping for. Unfortunately, the duvet alone is £148. Maybe in another life.
Devon seersucker bedlinen
from the White Company is also a very tempting option for me, especially since now that it has 30% off it's almost within my budget at £42 for a duvet cover. I love love love seersucker, whenever I see it I want to reach out and touch it (this is sometimes awkward when it's in a man's shirt).
The Perch Pillow
is of course only a pillow and not a full bedset, but I think the colouring and style suit me really well. Unfortunately it's $100 plus shipping, so I'm going to have to let this one fly away.